The artists picked the winning pieces on Friday night, March 18th, during their Artist Dinner.

Congratulations to our winners!
1st - Bayside Academy
2nd - Fairhope Middle School
3rd - Fairhope High School
Daphne Middle School and Spanish Fort High School received a honorable mention.
The student art murals are going to be located in the Mayor's Office at Fairhope City Hall and in the Fairhope, Daphne and Spanish Fort Public Libraries.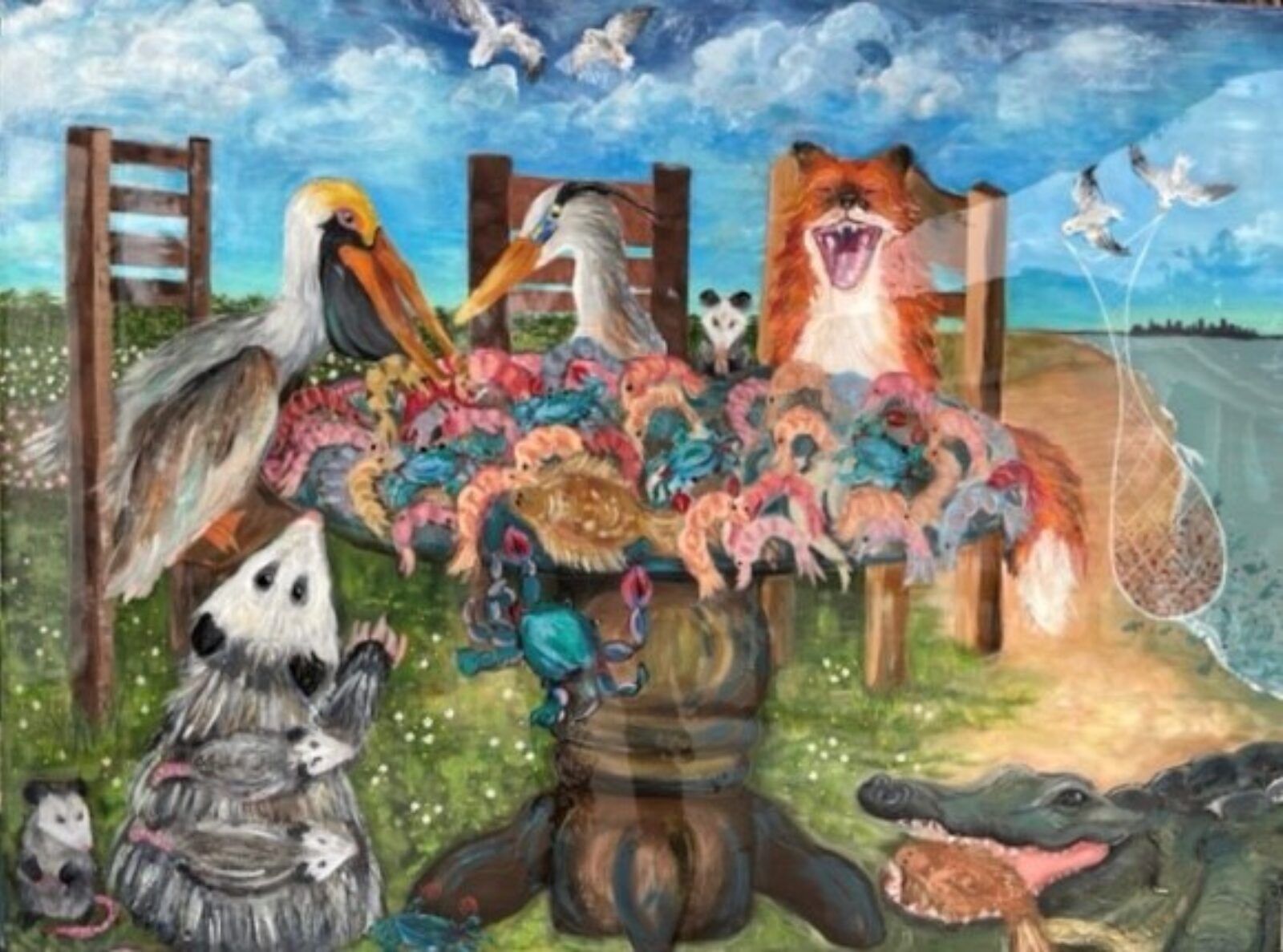 Displayed at Fairhope Public Library

Bayside Academy - First Place
A Jubilee Feast Among Friends
To represent this year's theme of Jubilee, the Bayside Art Guild decided to illustrate an enchanting tale of native Alabama wildlife coming together to feast on the bounty of a jubilee. It was important to portray the sense of togetherness as residents spread the of a jubilee and shared what they had gathered.
After blocking out the composition, modeling paste was applied to the surface for added texture. Acrylic paint was then used to render the scene. We used colored pencil and acrylic pens for added detail and line work. For the final step, we topped if off with a coat of epoxy resin, which enhances the color and dimension. Our mural tells a story of friendship and camaraderie, which reflects the teamwork that was required to bring this project to life.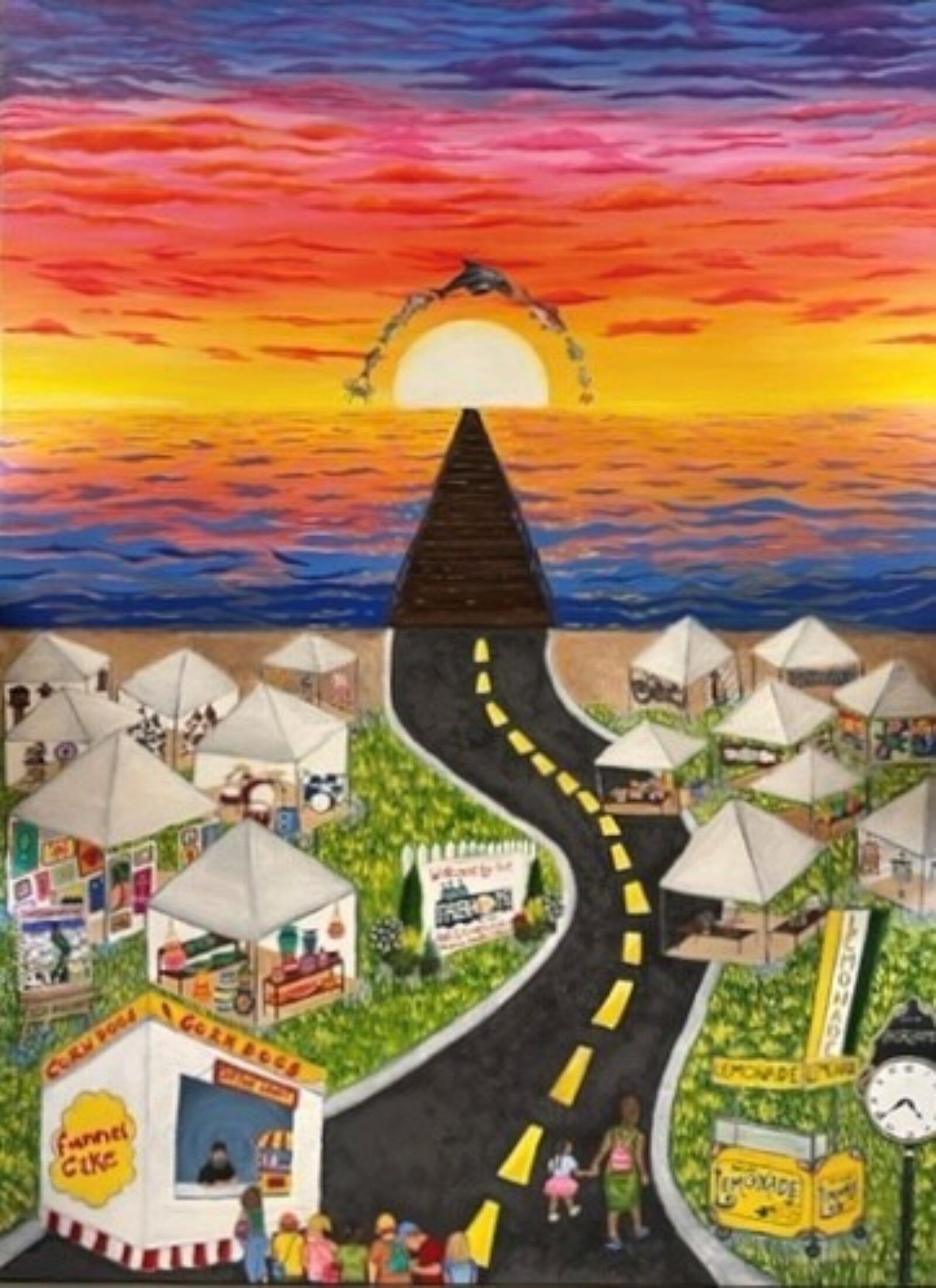 Displayed at Fairhope Public Library

Bayshore Christian Academy

Created by art students, Billy Gifford, Nicole Busby, Virginia Rainer, Sara Jones and William Rainier with the companionship of James Thorpe. These delightful artists are finishing their senior year at Bayshore Christian School, located here in Fairhope. They painted this mural together using acrylic paint on a wooden panel.
The detailed painting is filled with their colorful impression of Fairhope during the annual Arts and Crafts festival. Most students who have grown up on the Eastern Shore have memories that include this festival as an exciting benchmark of spring. Memories of the smells that come from the food vendors, the sounds of music and the rows of bright white tents filled with art work served as their inspiration. The beautifully painted aquatic creatures are included as a reminder that they are an important part of our area. Notice the dock, an iconic symbol of Fairhope, in the lower right corner.
The mural includes people who are local and that travel from far away, to see the art and to experience the beauty of Fairhope. Notice how the students have depicted the variety of crafts that you can buy including pottery, hand woven baskets and the jewelry. The fine art is also shown, the drawings and beautiful paintings that inspire our own art work. You are invited to study closely the details from the tiny shrimp to the grizzled vendor selling funnel cakes.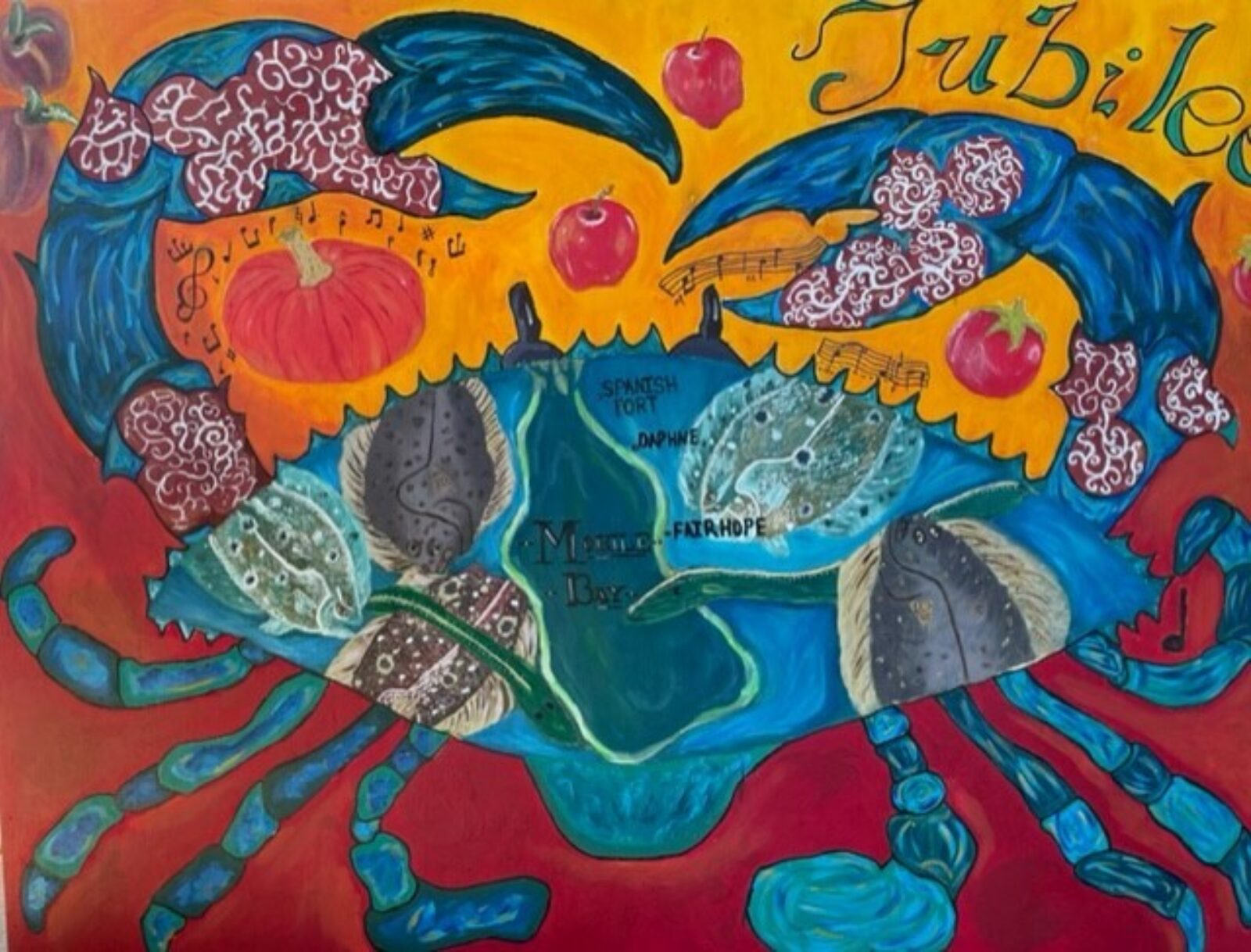 Displayed at Daphne Public Libary
Daphne High School
With this year's theme, A Platinum Jubilee; and abundance of art, a cornucopia of crafts, a flood of fun, gobs of good times, and the bounty of the bay, students set out with a design that incapsulated all those things. The initial design came from the Classic Americana tattoo style which includes bold outlines and the use for similar color and imagery. Students brainstormed and wanted to include flounder, eels, crap, apples, pumpkins and music notes al denoting specific attributes to living in the Jubilee city along with the bold colors reminiscent of the Mobile Bay Sunsets.

Teacher: Carrie Pigage
Students: William Johnson, Olivia Collins, Kerry Bracy, Cheyenne Stone, Baylon Barnette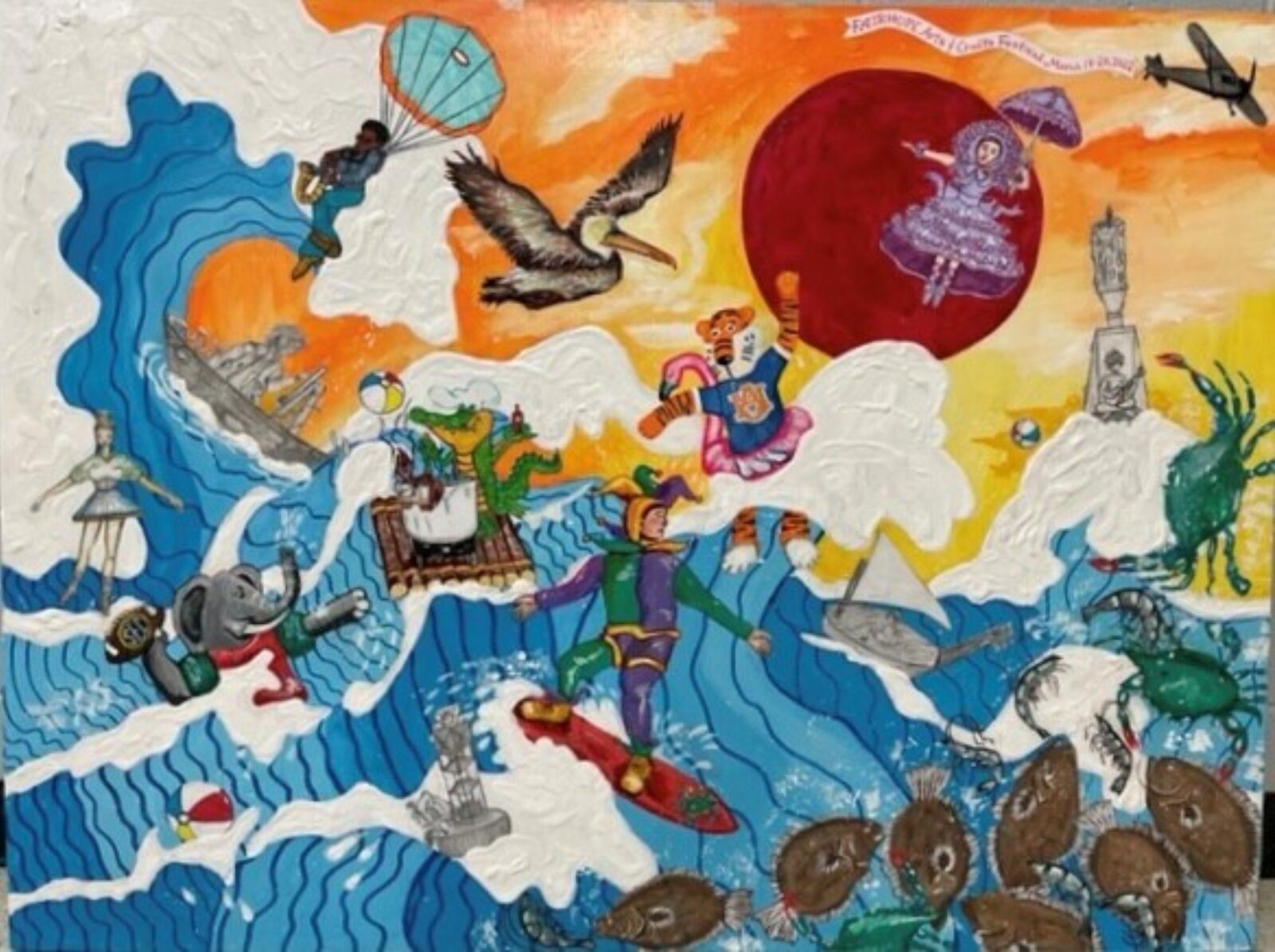 Displayed at Daphne Public Library

Daphne Middle School - Honorable Mention
This group mural shows the multitude of what the Eastern Shore has to offer. Whimsical in nature, the subject matter represents the abundance of cultures, traditions, lifestyles, and the unique qualities of our area. The Japanese-style waves and sun references Japan! They share the same unique ocean phenomenon that occurs in Tokyo Bay that occurs in our Mobile Bay. The jubilee in the artwork is depicted in the foreground, the sea life is activated and preceding the celebration that is rolling in. The figures pictured are diverse in terms of style and the use of media – this shows the various ideas and contributions from student artists.

Teacher: Mrs. Sherry Bittinger
Students: Maeci Howell, Zoey Smith, and Alex Webb (8th grade).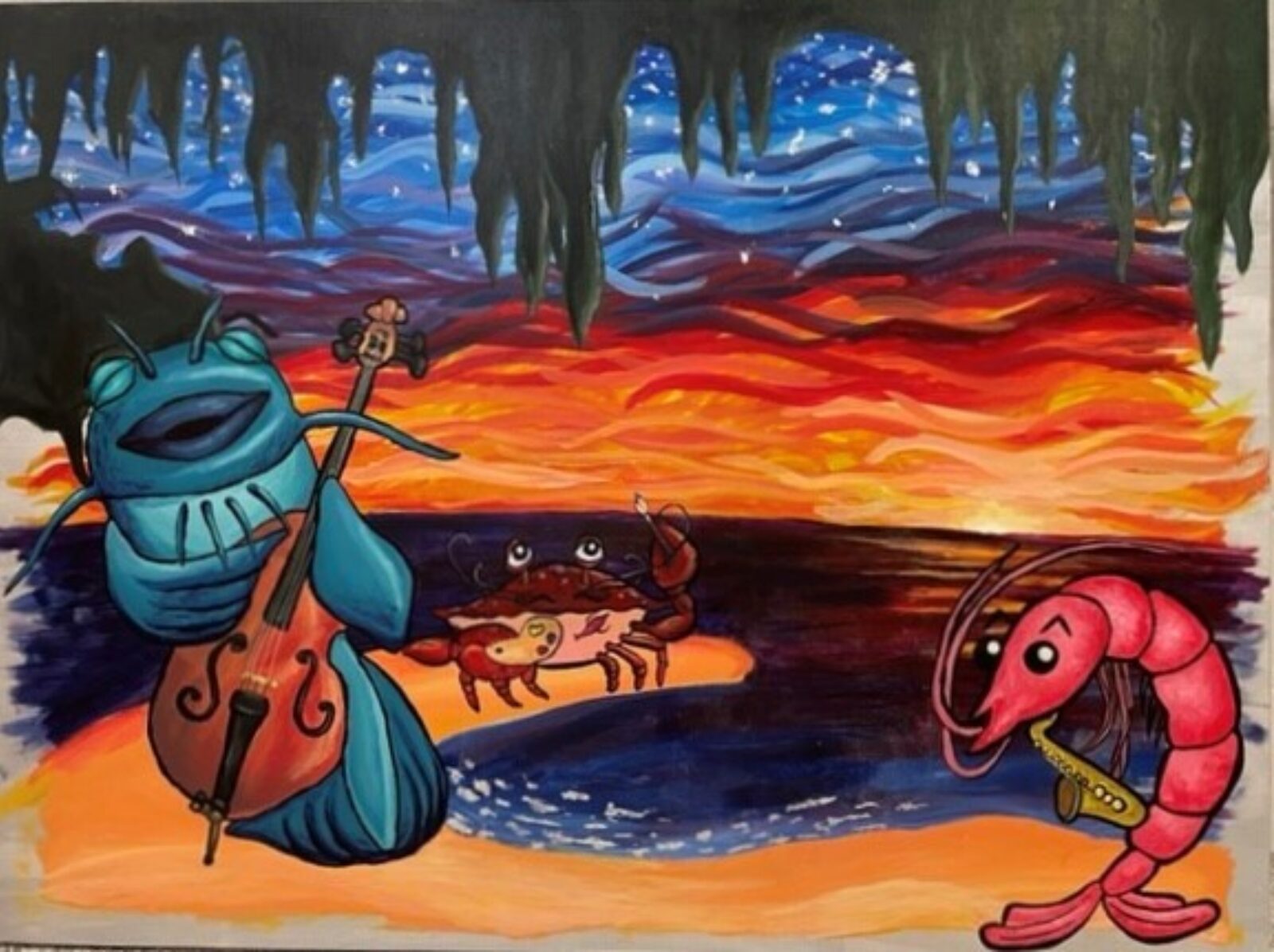 Displayed at Fairhope Public Library

Fairhope High School - Third Place
The theme for this year, "Platinum Jubilee; and abundance of art, a cornucopia of crafts, a flood of fun, gobs of good times, and the bounty of the bay!", is a lot to take in, a lot of fun. We wanted to bring the fun of the theme into an original piece of art illustrating our beautiful sunsets along the bay in bright, vivid hues. The cartoon characters are creatures found around a jubilee, but instead of being washed ashore, they become part of the Jubilee's good times full of life as they create art and music. We decided to create a painterly edge to the artwork surrounded by a platinum color framing the design. We completed our design by adding silver flakes to compliment the "Platinum Jubilee".
Teachers: Mrs. Kristina McClay and Mrs. Sarah Bell
Students: Lena Armare and Claudia Catar (10th grade) and Adrian Foutch and Joseph Solomon (11th grade).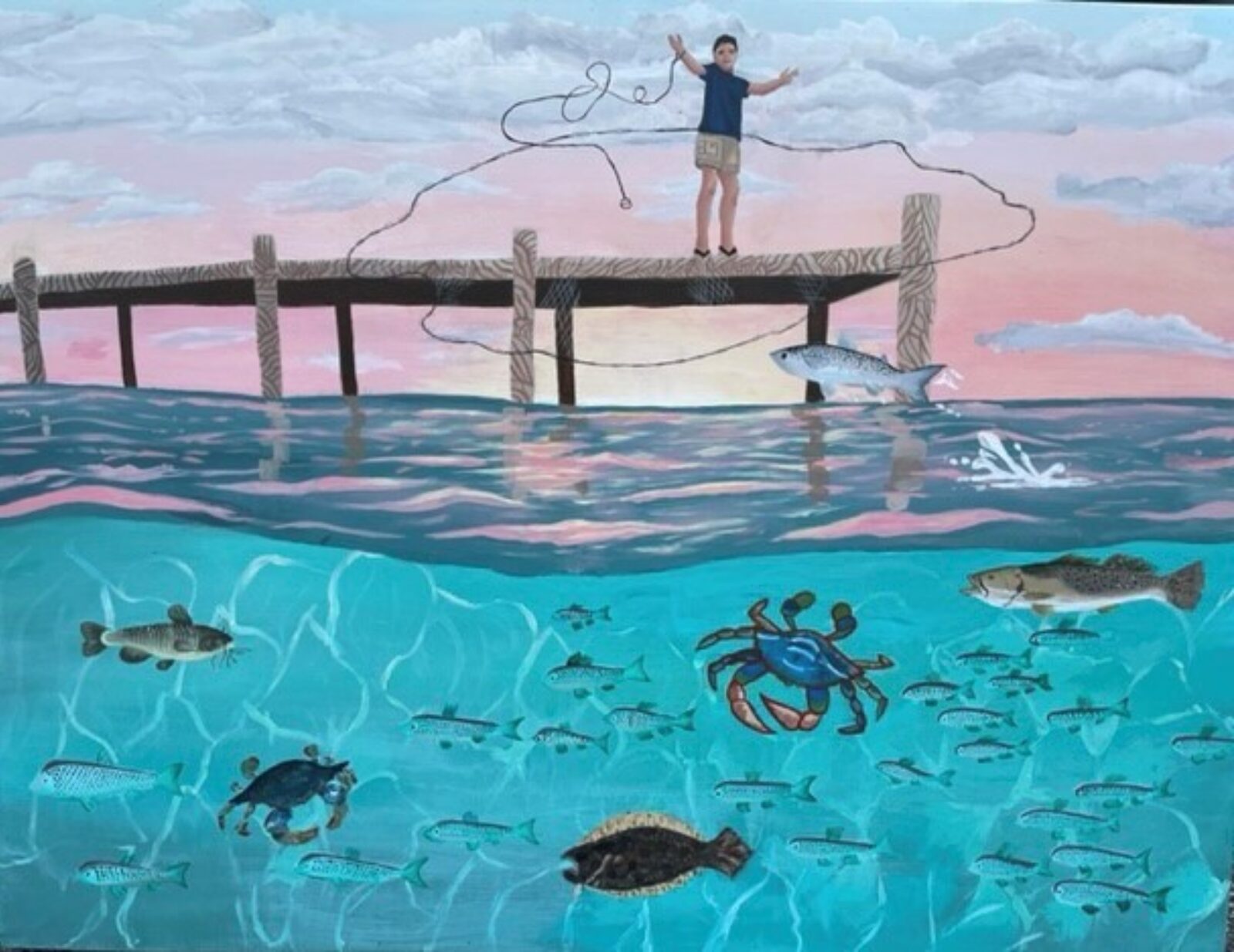 Displayed at Fairhope City Hall - Mayor's Office
Fairhope Middle School - Second Place
Teacher: Shawn Johnson
Students: Madeline Taylor, Marley Jones, Harper Cummins, Amelia Doucet, Katherine Steiniger, River Nunn, Lyla Nelson, Moxie Mclay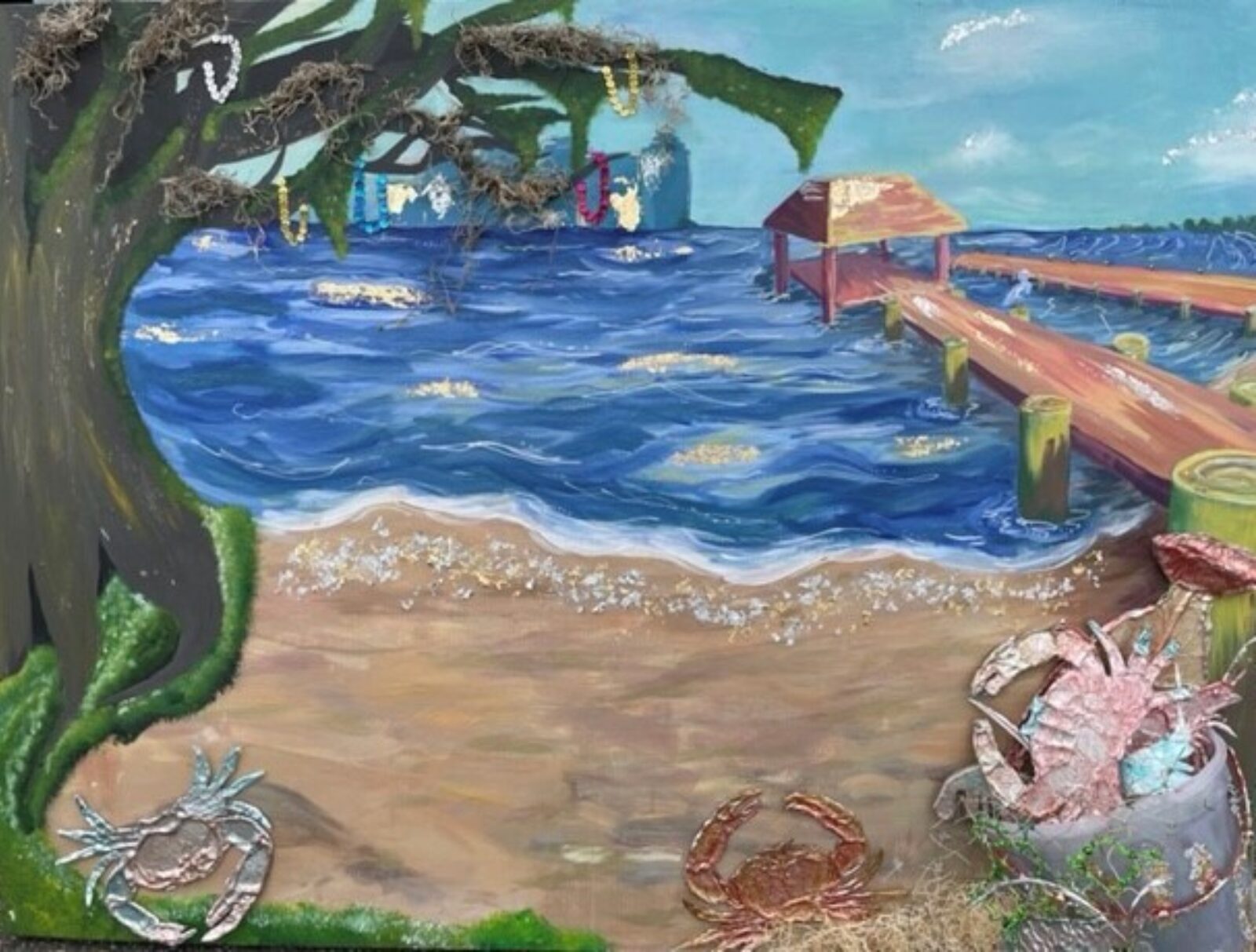 Displayed at Spanish Fort Public Library
Spanish Fort High School - Honorable Mention
The picturesque scene of the Eastern Shore facing Mobile Bay depicts the vision of many students using the year's theme "Platinum Jubilee".
Abundance of Art
Our mural was created by 8 main student artists but we also had several students assisting with smaller jobs. The students utilized many different types of metallic materials to reflect the Platinum Jubilee theme.
Cornucopia of Crafts and Flood of Food
You can see our bucket overflowing with embossed foil crab, shrimp, and flounder. There is also a handmade metal fishing net that was created by one of the students.
Gobs of Good Times
You can see the beads still hanging in the Live Oak from recent Mardi Gras celebrations.
Bounty of the Bay
When looking at our mural you can see that several elements have been enlarged or exaggerated to show their importance. These are what we consider to be the Bounty of the Bay and what it has to offer to us.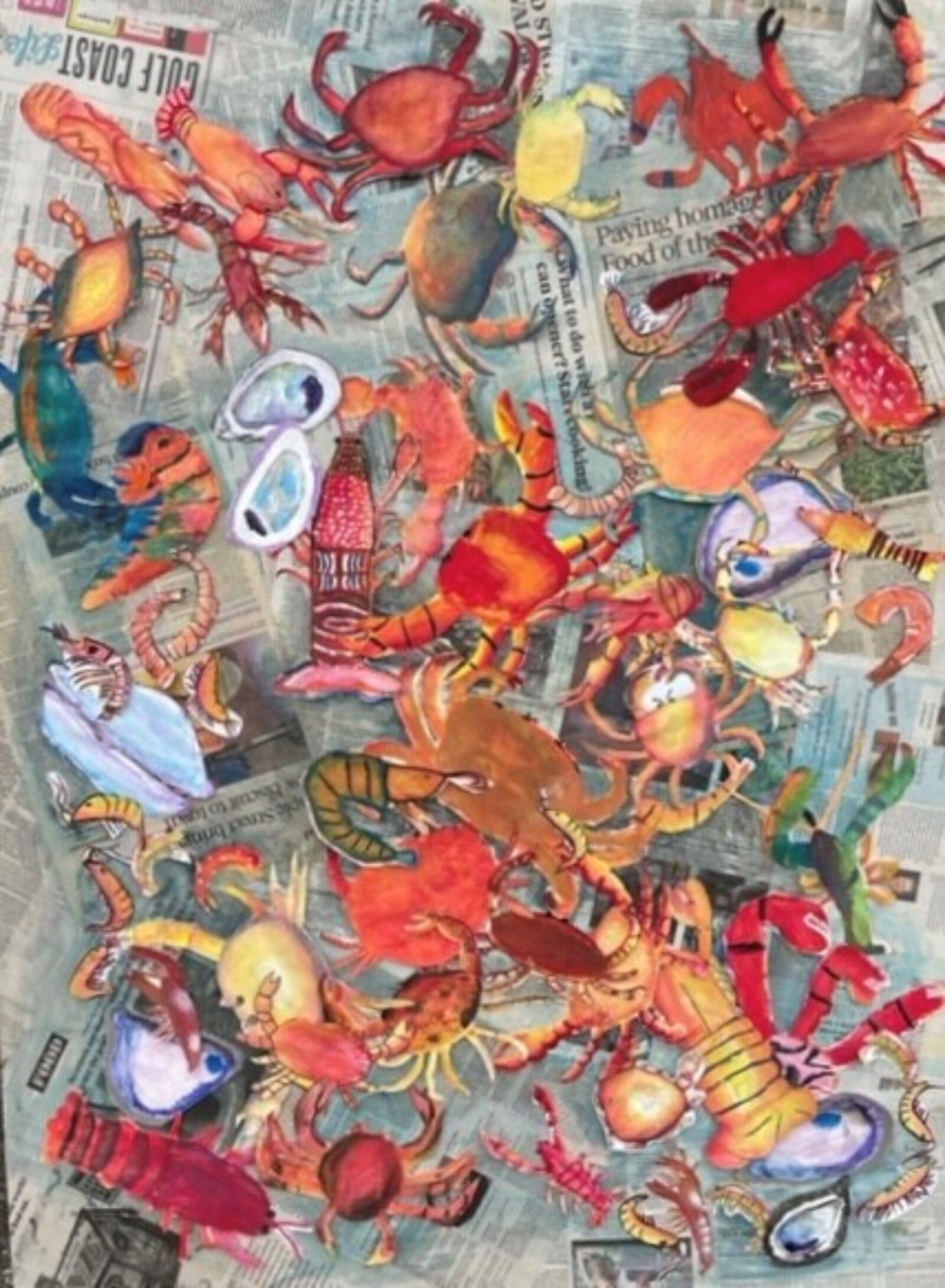 Displayed at Fairhope City Hall - Mayor's Office
Spanish Fort Middle School
Students learned about the Jubilee in Mobile Bay and discussed how the Jubilee represents abundance. We decided to connect this idea to the visual of a low country boil, and each student choose a seafood item to study, sketch, and paint. Students' final drafts were cut out and collaged together and create our board

Teacher: Kristina D'Acquisto
Students: 7th grade art classes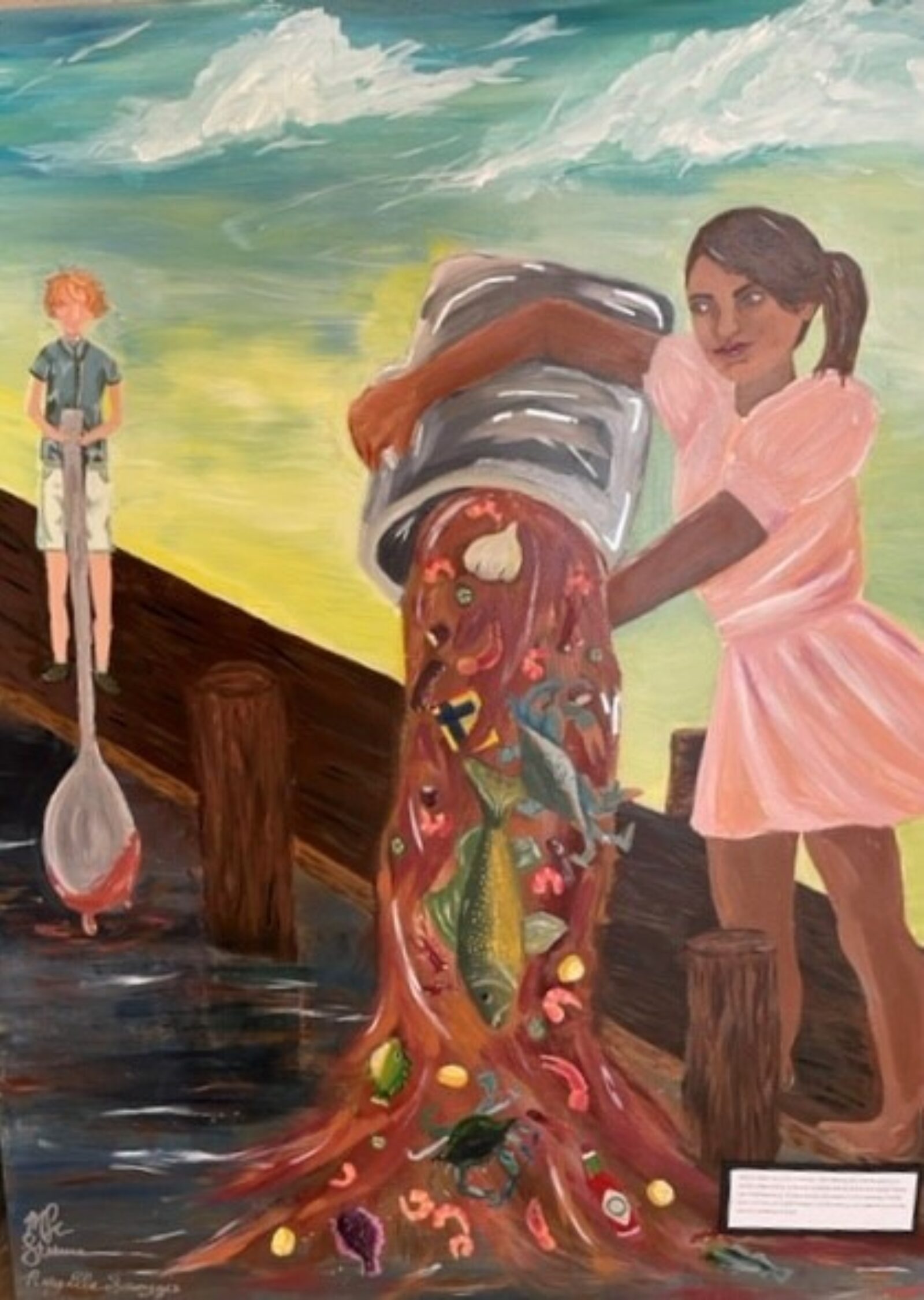 Displayed at Fairhope Public Library
St. Michael Catholic High School
Platinum Jubilee: The Gumbo of Fairhope! When dreaming about what the essence of a Fairhope Jubilee could be, gumbo was immediately what the students at St. Michael Catholic High School dreamed up. The bay is bountiful with all types of beauty abounding: Flounder, shrimp, blue crab, with a splash of tabasco, and little stirring up, this creates the Bountiful Bay filled with a smattering of Gumbo!