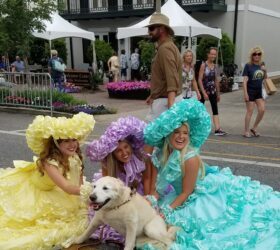 Business License and Sales Tax
You may be required to purchase a state/county business license for Baldwin County. Everyone registered for a booth or making tangibles sales during a festival event held within Baldwin County is required to file Sales Tax.

You can contact the Sales & Use Tax/License Inspection Department for more information.
Check the attached document (2023 version) for details: Baldwin County Business License and Sales Tax
All sales taxes, city, county and state, need be filed and paid with the state. Taxes can be filed online with My Alabama Taxes (MAT).
Registration
A registration form, pre-assigned booth number and map will be emailed to you via ZAPP before the start date of the event.
Registration will be open 3:30 - 5.30pm on Thursday March 16, 2023. The registration tent will be located outside the Fairhope Welcome Center on Section Street. To register, you will need to bring your completed 2023 Artist Registration Form , your drivers license and business license.
At registration your will receive your Artist Packet which includes:
Booth ID Card (Please keep inside plastic folder and place at front right-hand corner of booth)
Parking Decal/Parking Guidelines (Must be visible on your dashboard during festival hours)
Name Tag and Dinner Ticket (Inside name tag)
Tax Forms: State of Al= 4% Baldwin County= 3% City of Fairhope= 2%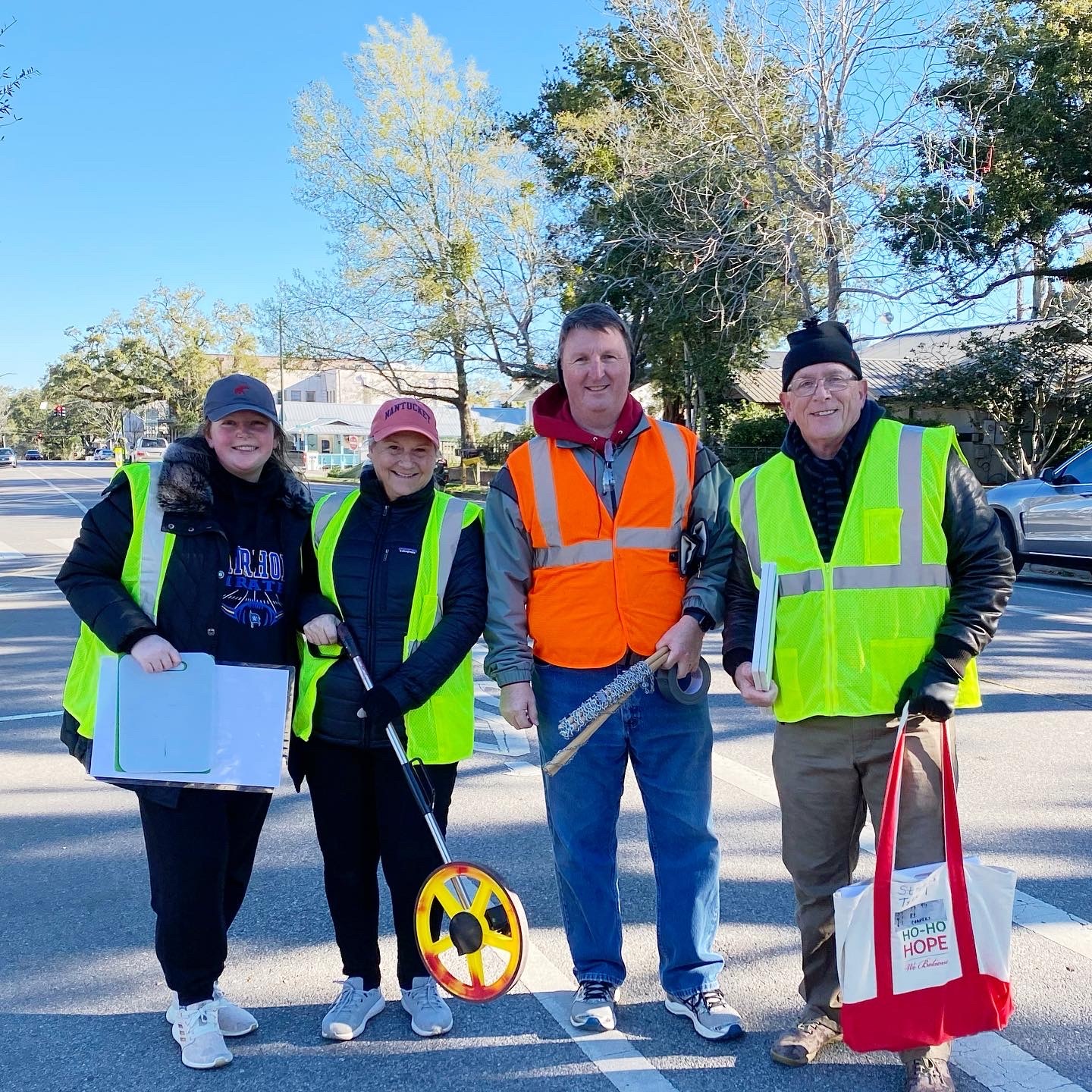 Setup
The streets will close at 5 pm and set-up will begin at 6PM OR at the signal of the Fairhope Police Department after the festival streets are COMPLETELY CLEARED of all vehicles.

You cannot park anywhere within the festival prior to set up on Thursday and you cannot begin unloading or setting up until the Fairhope Police Department gives the all clear.
Please note there is a change this year regarding weight for booths. Tents must have 40 pounds of weight attached to each leg.
---
During the festival
Festival hours are from 10am to 5pm. The Artist Hospitality volunteers will be there to assist you during the festival and you can call the Festival phone number (251) 229-1874 for questions or requests.
Breakfast will be available at the Visitor Center on Friday and Saturday from 7am - 9am and on Sunday from 8am - 10am. We will also come by with a drink wagon three or four times a day.
A volunteer will come by your booth every morning to check on you. You can arrange a booth sitter for a 30-minute break during the day and if you need a short, unscheduled break you can call the Festival phone number.
During your break, our volunteer will stay in your booth. Typically we advise customers to return at the time you are scheduled to return. It will be up to you to communicate to your booth sitter if you would like them to make sales during this break.

Volunteers from Artist Hospitality will be picking up surveys at the end of the festival.

The festival is a rain or shine event but the festival staff will keep a close eye on the weather and will take precautions to keep everybody save if inclement weather is predicted.
Please be aware that on Saturday morning the Spring Fever Chase run will take place. There will be additional street closings that may impede access to your festival booth. Plan extra time for arriving and parking.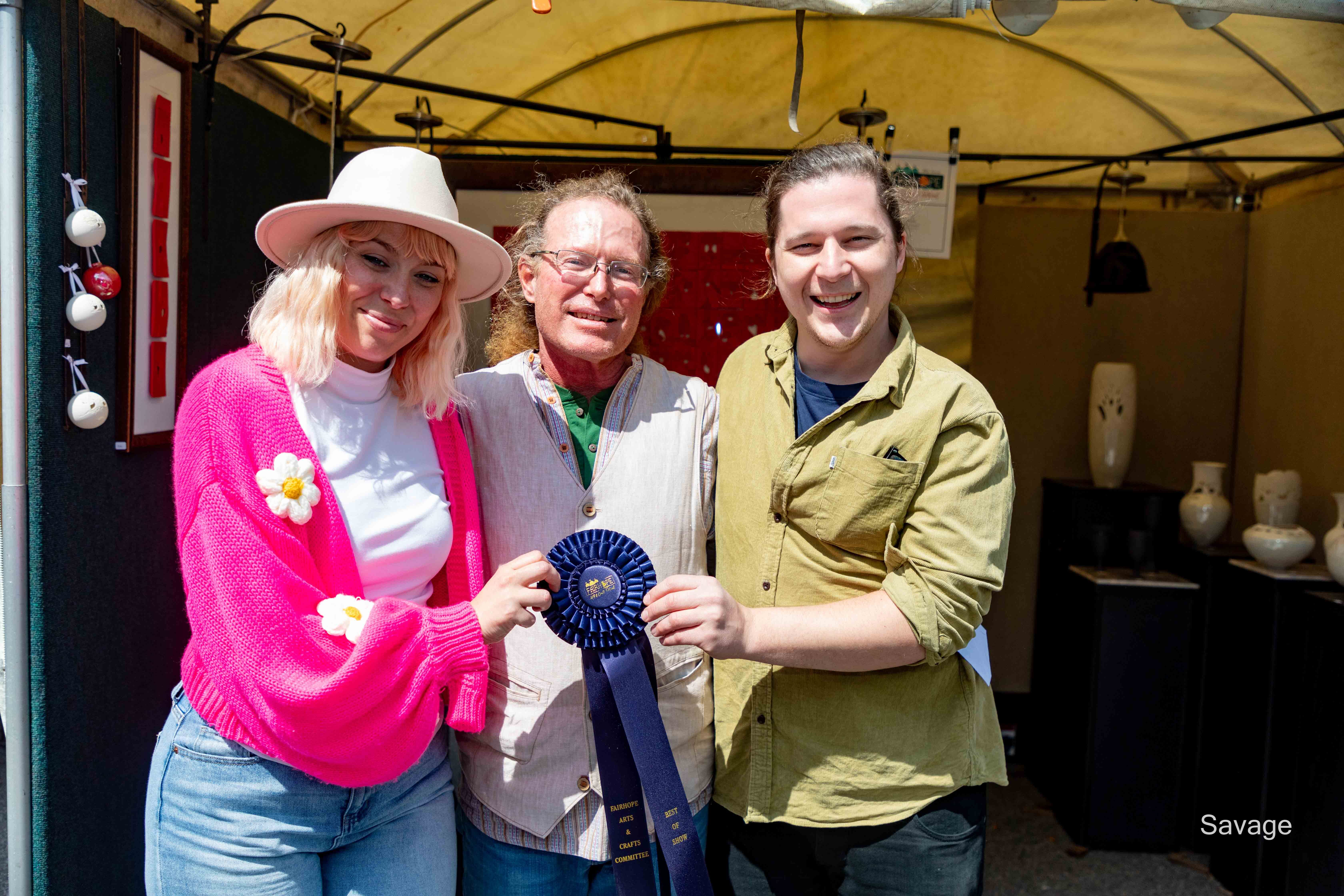 Judging
This is a juried show. There will be different awards for 11 different categories. Judging will take place on Friday, March 17th starting at 9.00am.
Three judges will come by during the day to choose a Best in Show, plus awards in 11 individual categories. Additional prizes will be given as Merit Awards. All together more than 20 award winners and each award comes with a cash prize.
The judges will only be able to spend a short time at each booth because they have a lot of ground to cover in the time allowed for judging. We want to be fair to all booths and give each a equal time.
The results of the judging will be announced during the Awards Dinner.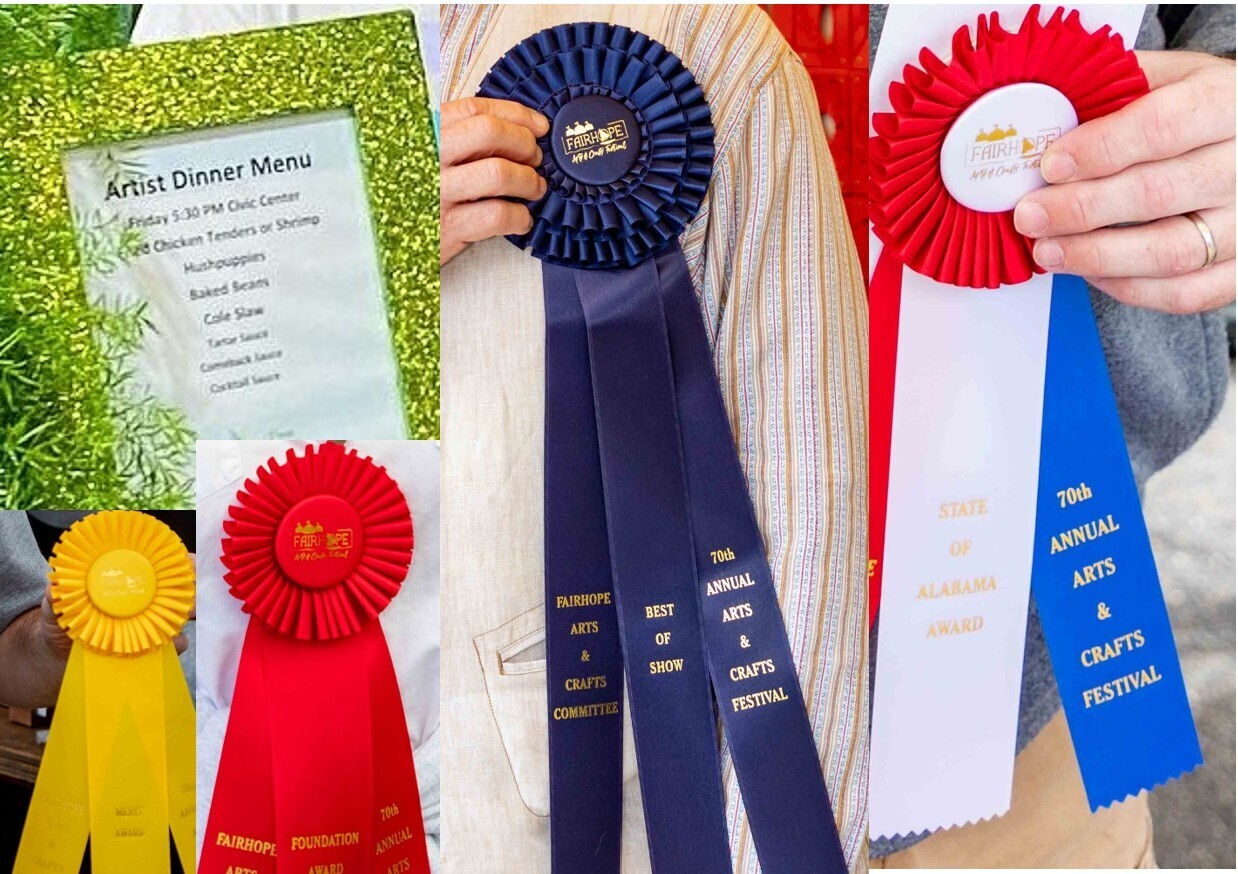 Awards Dinner
During the Awards dinner the results of the judging will be announced and the awards will be presented. Each artist receives one ticket. Additional tickets can be bought in advance for $20.00. You can call the Festival phone number (251) 229-1874 to buy additional tickets.

The Award's Dinner is Friday night immediately following the close of the Festival at the Fairhope Civic Center located at 161 N. Section Street. Dinner starts at 5:30 pm.
Artists will be also be invited to review and judge the student art pieces from various Eastern Shore High Schools to determine the winners of the Student Art Competition.

Adopt an Artist
For over twenty years, the merchants of Fairhope have provided this unique service for Fairhope's Arts and Crafts Festival by matching artists with local participating businesses which will provide "Southern Hospitality" for this special weekend.
Through the Adopt An Artist Program, artists are invited to utilize their adoptive shop for general information, refreshments, rest rooms (when available).
The co-owners of M&F Casuals, sisters Carol Eberlein and Barbara Levitt, have officially joined the volunteer team to head up the Adopt An Artist program this year and organize the match ups between as many businesses and artists as possible. They are taking over the torch from "In the Company Of Angels" owner Diane Douglas who started this popular program.


Frequently Asked Questions
Please check out our Artist FAQs page for more details.