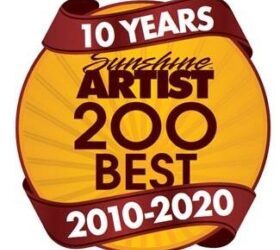 Voted #24 by Sunshine Artist Magazine!
The Sunshine Artist magazine announced in September 2021 the release of its annual 200 Best. Artists and craftspeople are typically asked to cast their votes each spring for the 200 Best shows list. Due to the COVID-19 pandemic's effect on the industry, Sunshine Artist decided to tabulate the best shows of the last decade, judging and ranking shows overall from 2010 to 2021.
Artists may list up to 10 shows they attended the previous year where they grossed the highest sales. Sunshine Artist's annual 200 Best focuses solely on artist show revenue, because that is the most objective indicator of a show's future success. Subjective attributes, such as artist treatment, amenities, attendance levels, management, and overall quality, can impact sales but are harder to gauge and therefore have no direct bearing on the rankings.
The Sunshine Artist 200 Best is split into two categories: Fine Art and Design for events that focus on unique, fine-art pieces and Classic and Contemporary Craft for events that focus on traditional or modern craft and production work.
The Annual Fairhope Arts & Crafts Festival ranked # 24 in the Classic and Contemporary Craft Category.
"We are honored that our Festival has received this recognition," said 2022 Festival Chairman, Vicky Cook. "Our organization is made up completely of volunteers that work year-round to bring this cherished community event to life every year. This award is particularly meaningful this year as we prepare for our platinum jubilee in 2022. We are proud to be a time-honored tradition for so many artists, locals, and guests that visit our utopia by the Bay for 70 years."
The Fairhope Arts & Crafts Festival has taken place for nearly seventy years gaining national recognition and attracting more than 200 exhibitors from around the country to the prestigious annual show. Organized 100% by volunteers, the Fairhope Arts & Crafts Festival Foundation (501c3), hosts the annual Festival in collaboration with the City of Fairhope to promote community appreciation of the arts and support art education. All proceeds go back into the community through local scholarships and grants available to students and organizations in the Fairhope community.
The 70th annual Fairhope Arts and Crafts Festival will take place March 18, 19, and 20, 2022, in beautiful downtown Fairhope.
Information about the shows that made this year's 200 Best list is available in Sunshine Artist's September 2021 issue, as well as on the web at www.sunshineartist.com.