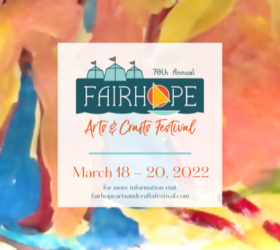 Mark your calendar for March 18, 19, & 20, 2022

The Fairhope Arts and Crafts Festival Foundation and Committee are proud to announce the return of a full Arts and Crafts festival in 2022 on the downtown streets of charming Fairhope with artists from all over the United States.
The City of Fairhope, Downtown Merchants and Eastern Shore Art Center join us in welcoming you and the 200 artists who will join us this year to the traditional 3rd weekend of March for a Friday through Sunday display of the arts. Our event is free to the public and the show hours are 10am-5pm.
It will be a fabulous event celebrating 70 years of fantastic festivals that have grown beyond our expectations from the inception of the idea in 1953.
We are proud to announce we have been ranked #24 by the Sunshine Artist Magazine out of Sunshine Artist Magazine's top 200 for 2020. Our ranking was listed in the Classic and Contemporary Craft Category. www.sunshineartist.com
The festival has been chosen as one of the top events in the southeast for March by the Alabama Bureau of Tourism and the event is also one of the top 20 events selected by the Southeast Tourism Society.